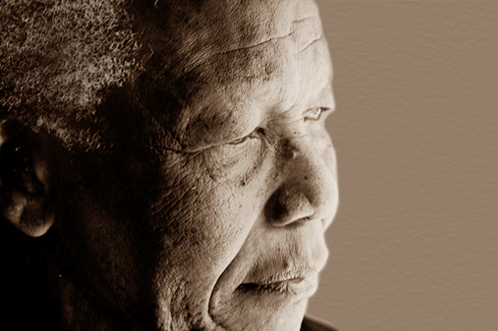 In 1999, I had the honor to meet Nelson Mandela.  He was attending a state banquet (in South Africa) and a friend scuttled me in for a quick meet and greet.  I was completely in awe, of course, and don't think I said anything other than put my hands together in respect when we met.
When I heard the news of his passing yesterday, I relived that moment once again.  And while meeting someone as historical and mythical as he was is undoubtedly a moment in my life I will never forget, so was a poignant  visit to Robben Island, the remote prison that held Nelson Mandela for twenty-six years.
I was in South Africa with my classmates from Kellogg Business School – our intent was to learn more about the country, its people, traditions, and, of course, current and future business opportunities.  We were fortunate to be taken to Robben Island by Ahmed Kathrada, a freedom fighter who was sentenced for treason on the same day as President Mandela.  Mr. Kathrada, who at that time of our visit was a gentleman in his late seventies, was 36 years old when he went to prison, the youngest member convicted in the famous Rivonia trial, and the only person of South Asian descent from the group.
Our tour of the prison was somewhat surreal as Kathrada told us firsthand stories about almost three decades in prison, and the shaping of a revolution.  We had all read A Long Walk To Freedom, Nelson Mandela's prison memoir, which to this day is one of the most powerful books I have ever read.  It was truly remarkable to stroll the grounds of the prison as Mr. Kathrada showed us how they would use scraps of rice paper to write notes for the book in tiny handwriting, and bury the paper in marked holes in rocks, before sneaking them out with release prisoners.  He showed us the cells they shared, and laughed at the habits each of them came to know of their fellow prisoners.
On that sunny day, it was difficult for me to feel the scope of the sacrifice these men made at Robben Island, until Mr. Kathrada talked emotionally about how they missed being around children while in prison.  Can you imagine a world without the cries or playful laughter of children?  He described the wonderful sensation of holding a child after 23 years of being deprived of seeing or hearing them.
The most dramatic moments in our time together came as Mr. Kathrada spoke with conviction and passion about the cause for which he had fought. I got chills down my spine as he talked about the camaraderie between strangers who had united for a cause for which they were willing to sacrifice their entire lives or even to die.  Mr. Kathrada described the evening when his guards announced that they had been released.
"They came and said, "We have received a fax that you are to be released tomorrow."  Our first question was, "What is a fax? We had only seen a television for the first time in 1986."
What followed their release was historic and bold and hard.  In one of the quotes being shared today, Mandela says:
"I have walked that long road to freedom. I have tried not to falter; I have made missteps along the way. But I have discovered the secret that after climbing a great hill, one only finds that there are many more hills to climb. I have taken a moment here to rest, to steal a view of the glorious vista that surrounds me, to look back on the distance I have come. But I can only rest for a moment, for with freedom come responsibilities, and I dare not linger, for my long walk is not ended."
Some of the most powerful words and scenes in the book, A Long Walk To Freedom, were the ones where Mandela talks about forgiveness.  The NY Times has a beautiful piecewritten by John Dramani Mahama, the President of Ghana, about how Mandela's legacy of forgiveness shaped Africa.
As I read quotes and recaps of Nelson Mandela, I decided to see if Ahmed Kathrada had written something today and was moved to find his emotional words posted on  a South African portal.  Mr. Kathrada writes:
Your smile, which lingers still, was always from the heart, never forced, and the great joy you took in the world around you, especially in children, was unmistakeable…

I had the enviable privilege of being alive and walking the earth with you through the bad times and the good. It has been a long walk, with many challenges that at times seemed insurmountable. And yet we never faltered, and the strength of leaders like you and Walter always shone a light on the path and kept our destination and our people's future in view.

I feel bereft and lonely. To whom do I turn for solace, comfort, and advice?

Farewell my elder brother, my mentor, my leader.
You can read the full text here.
Yesterday the world lost a hero and a true leader. While we mourn the loss of such a great man, we will strive to keep his memory and spirit alive in all the days to come. Thank you Nelson Mandela, may you rest in peace.