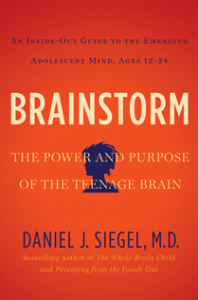 A Powerful Tip I read about in "Brainstorm: The Power and Purpose of the Teenage Brain"by Dr. Dan Siegel
I was dropping off my 12 year old daughter to her 7th Grade retreat, and I could see that she was nervous. It was a 2-night trip with new classmates from her new school. She is not one who is keen on retreats – in fact, she generally doesn't like sleep-overs and has never wanted to go to a sleep away camp. At the same time, she was excited with the discovery of independence at Middle School, and knew that the retreat was a great opportunity to make new friends.
I reminded her that when she is feeling anxious, the first step is to breathe. Pause. Take deep breaths. One. Two. Three. Let the air coming in help push the anxiety out. She didn't smile exactly as I spoke, but I could see her slowing down with deeper breathes as she listened.
I added a new twist to the exercise – something I had just read about in Dr. Dan Siegel's book, Brainstorm: The Power and Purpose of the Teenage Brain.
"In the brain, naming an emotion can help calm it… Name it to Tame It."
He explains:
"For all of us, as teenagers or adults, when intense emotions erupt in our minds, we need to learn to feel them and deal with them… Learning to deal with emotions means being aware of them and modifying them inside so that we can think clearly. Sometimes we can name it to tame it and help balance our brains emotional intensity by putting words to what we feel… There are even some brain studies that show how this naming process can activate the prefrontal cortex and calm the limbic amygdala!"
As Tara was away on her retreat, I found myself practicing the Name It To Tame It technique, and the effects were dramatic. When feeling stressed or upset, I would pause, breathe, recognize the sensations in my body, name the emotion (frustration, anger, anxiety), and continue.  In fact, in a particularly frustrating work situation, I named my feelings through my negotiations, and felt I was much more calm, clear headed and non-emotional.
Tara returned from her trip with a big smile and lots of stories about their adventures. She noted that there were moments when she felt alone and anxious, but she reassured me she took deep breaths, recognized her feelings, and proceeded.
Dr. Dan Siegel is a prolific author and presently a clinical professor of Psychiatry at UCLA School of Medicine. Learn more about him at his website or purchase your own copy ofBrainstorm: the Power and Purpose of the Teenage Brain and let us know what you think!