Dear Friends,
I finally hit the wall.
After months of quarantine, following all the Covid-19 rules, trying to stay responsible and positive for my kids, two weeks ago, I gave into the overwhelming, paralyzing grief of the people who have died and suffered due to this global pandemic. (Over 200K just in the US as of today, Sept. 22, as I write this.)
I woke up one morning and felt I couldn't get out of bed, didn't want to go for my daily walk outside or open my computer to do work. I just wanted to play Animal Crossing to live in a happy, imaginary world chatting with cute friends.
For the first time in my life, I backed out of a professional commitment – I had committed to deliver a new book by Dec. 1, and knew I just couldn't do it. I just don't have it in me right now. I called my agent who gave the news to my supportive, but disappointed, editor.
And then, I wallowed away in self-pity. So now what?
Last week, I started to take small steps to get back up. First, I stopped my (what had become since quarantine) daily habit of Japanese whisky at night! Yes, I had let my "treat" become routine. I realized that some discipline in eating, moving, and being outside is the way to shift my mental despair. I also started to make plans for my 50th birthday next year – how those plans ultimately manifest, who knows! But I am excited about the possibilities.
Meditation
Today, my father releases his new book, Total Meditation: Practices in Living The Awakened Life. Immersing myself in the practices of this book, I am reminded that meditation is way of life. And that silence, observation and self-inquiry truly awaken awareness and the power and possibilities that we each have for love and service.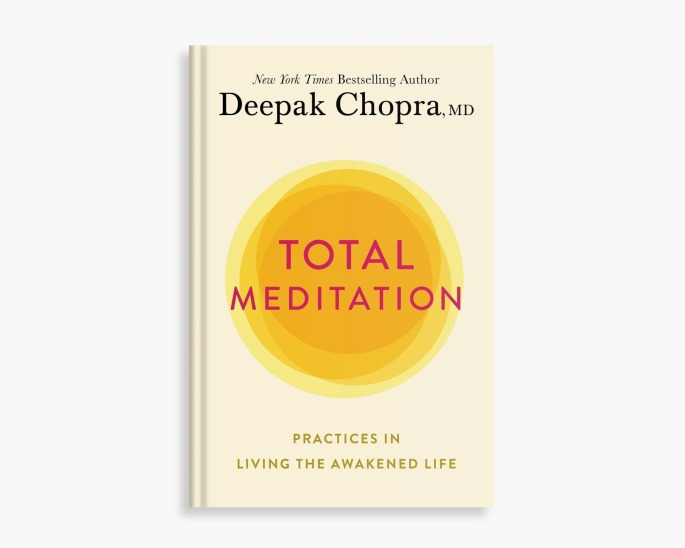 I also signed up for the new Chopra Meditation app. It is amazing – I strongly recommend you explore it. It has so much great content and is easy to navigate.
The Election
My friend had given me postcards to mail to people to encourage voting. Last week, since not having the pressure of delivering my manuscript gave me emotional freedom and time, I began writing personal notes to encourage people to register to vote and cast their ballot. This has become my coping mechanism in these weeks before a monumental election.
Ruth Bader Ginsburg died a few days ago. A hero to so many of us, she led with grit, resilience, compassion and action. I realized I have no choice but to get back in the game. For the next 6 weeks that means encouraging people to vote!
I just finished writing my 100th letter for Vote Forward, and am committed to keep writing until the very last day! I am donating to organizations that support voting rights, candidates in Swing States, and signing up for texting and calls in the coming weeks. Let us all honor the privilege of using our voice and voting!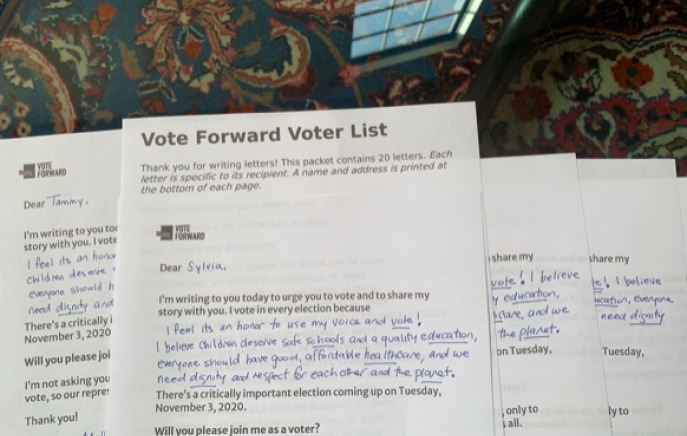 Our country – our world – needs compassionate, ethical, and intelligent leadership – the future of our children, grandchildren and planet's lives are at stake. I am committed to doing whatever I can to support Joe Biden and Kamala Harris and candidates up and down the ballot who will stand up for science, education, healthcare, social justice reform, and the planet.
Are you registered to vote? What is your plan to vote? You can find resources at vote.org.
Service
I ask daily, "How can I serve?"
For now, I am focused on supporting my family, getting through Zoom school with my 16-year old (ugh! – how I appreciate her teachers and school, but let's be honest, it sucks), college transition (my 18-year old daughter is supposed to start in January but I wonder if that will happen), and finding space as my husband is still working at home. (Ha! Ha!)
I am enjoying doing Zoom sessions from home with schools and other organizations to breathe and bring mindfulness practices into daily life. It's been fulfilling to hear how Just Breathe and Just Feel are being used at home, in classrooms and with groups virtually and otherwise!
Here's a sneak peak of Just Be You and My Body Is A Rainbow which will both be coming out next year!
And, I am exploring how I can contribute meaningfully to a conversation about how to manifest the stories we wish to tell in a post-Covid world that is uncertain, but needs hope.
I send all of you reading this newsletter my love and prayers during this strange time in our history. I appreciate having the opportunity to share my ideas and stories with you, and would love to hear about how you all are coping during these days! You can email me via mallikaintent@gmail.com and I promise to read your responses.
xx
Love Mallika