Dear Friends,
I am excited to share a few updates – the official release of my new book (Just Be You), an upcoming Instagram series on mindful parenting with top experts in the field, and kid's meditations on the Chopra App!
Just Be You: Ask Questions, Set Intentions, Be Your Special Self, and More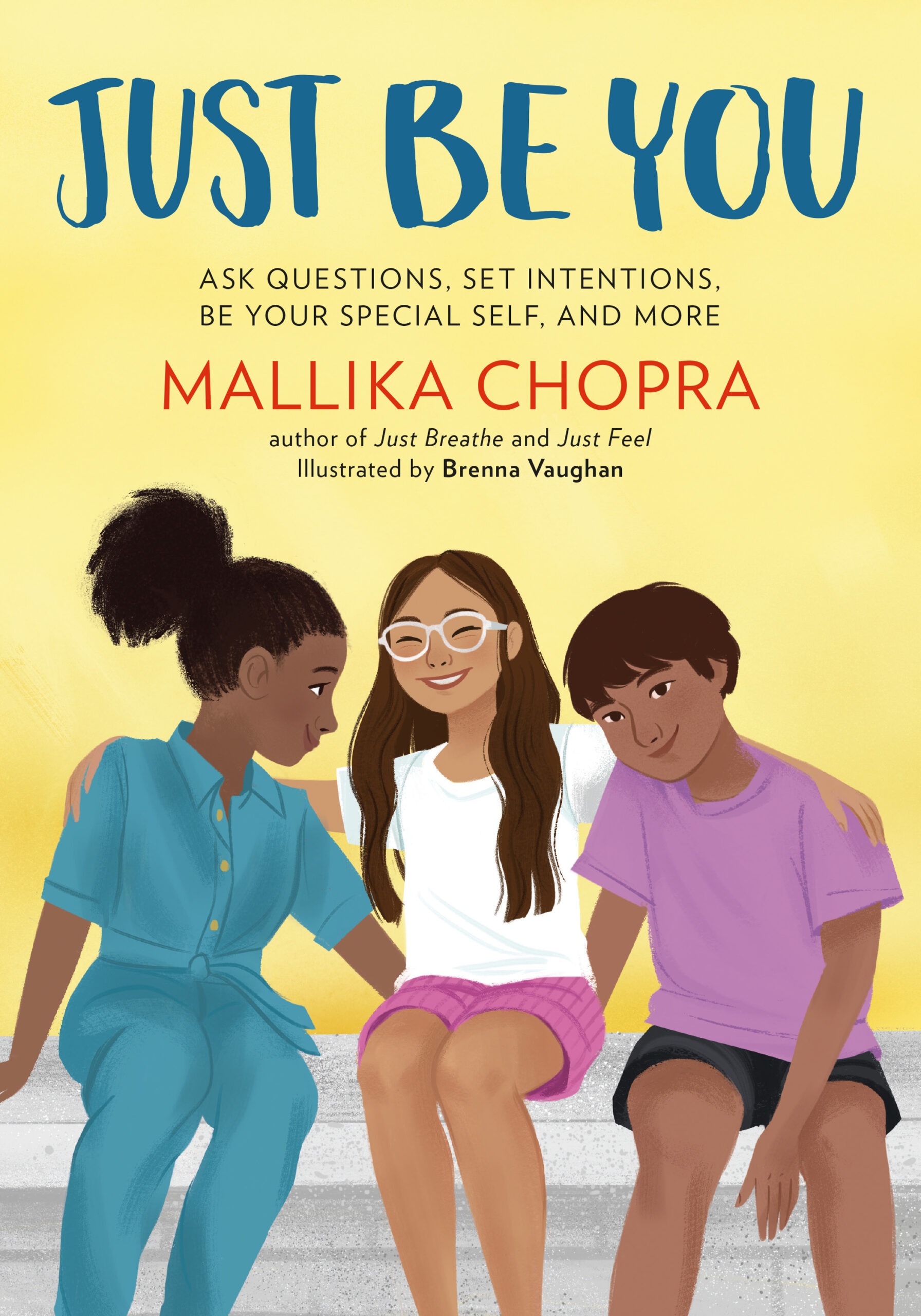 Earlier this week, I was invited to make a presentation to my high school – I graduated over 30 years ago! Seeing familiar names and faces on Zoom, this call brought up so many emotions of nostalgia, joy and reconnection, but also the inadequacies and struggles of my teenage years, impressions we hold onto, and the illusion of who we seem to be to others.
The presentation also reaffirmed my pride in the work to give children – and the adults in their lives – simple tools to understand and support social and emotional knowing, resilience, meditation, mindfulness and self-reflection. The pre-teen and teenage years can be so difficult, and as parents I know we are all seeking tools!
Just Be You – the 3rd in the Just Be Series – is a book about self-discovery based on four questions my father guided my brother and me to ask when we were young:
Who am I?
What do I want?
How can I serve?
What am I grateful for?
While we know the physical and mental benefits of meditation based on research, the gift of practice is experientially knowing our spirit goes beyond labels, pursuing the qualities we seek in our life, and feeling of value and relevance through service. My hope is the new book, in very simple language and fun exercises, offers children the insight and reassurance that they are special and to celebrate their uniqueness. It is not always easy – as I was reminded as I wandered back to my high school days.
IG Series on Mindful Parenting on @Chopra
To launch Just Be You, I am humbled to be doing a series of IG Lives with my friends and mentors. Over the next 6 weeks, every Monday at 12pm PST/ 3pm EST, I will host these conversations on the @Chopra Instagram account. (Perhaps I can add my dad to a future conversation – stay tuned!)
Kids and Mindful Parenting Meditation on the Chopra App
Many have asked me for meditation resources over the years, and I am really proud to share the Chopra App. The Chopra team has beautifully compiled guided meditations on this platform, featuring decades of work by Deepak Chopra and others. Kids and mindful parenting meditations launched this month, and I will be adding a few of my own meditations and expanding the family channel over the coming months. I do hope you explore the Chopra App as there is wealth of wisdom on this platform!
As always, I would love to get feedback on the books (exciting to finally have Just Breathe, Just Feel and Just Be You all out), as well as the meditations on the Chopra App. And, I really do hope to see familiar names and faces on the IG Live – it will be an honor and treat to talk to these experts! You can ALWAYS email me at mallikaintent@gmail.com .
With Love,
Mallika